Where to start
The first thing to do is evaluate the quantitative and qualitative the composition of the wardrobe. Gather all the clothes in one place and divide it into three parts. The first is things that are worn regularly (the basic wardrobe is only 20%). The second - in need of repair, washing or an additional accessory. The third - things that have not been worn for more than a year or simply have outlived their age. As a rule, women, as a result of such an audit, leave 60% of clothes and shoes, men - 30%.
Depending on the size of the problem, it should be decided whether one cabinet is enough to store the remaining things or you can't do without a dressing room . How many shelves will be needed, how much space will the clothes on hangers take up? What compartments to prepare for shoes, bags? It is necessary to think over storage methods for each category of things, prepare covers for outerwear and suits, baskets and organizers for linen and accessories, hangers, shoe boxes.
Problem small space
The purpose of parsing clothes is often not only to restore order, but also to save space. This problem can be solved by several effective techniques.
1. Clothing hung on hangers takes up less space.
This advice is not suitable unless for knitted and woolen things - it is better to put them on a shelf.
It is optimal to purchase the necessary number of identical hangers so that they look in the closet neatly. In size, they should match the width of your shoulders. For suits, it is worth choosing classic wooden ones with rounded shoulders, for strapless dresses or on one shoulder - with additional serifs. Skirts are more convenient to hang on the clamps, trousers - on them, hooked to the bottom edge or thrown over the bar. Save space multi-level hangers and transformer hangers , which can accommodate several items of clothing at once.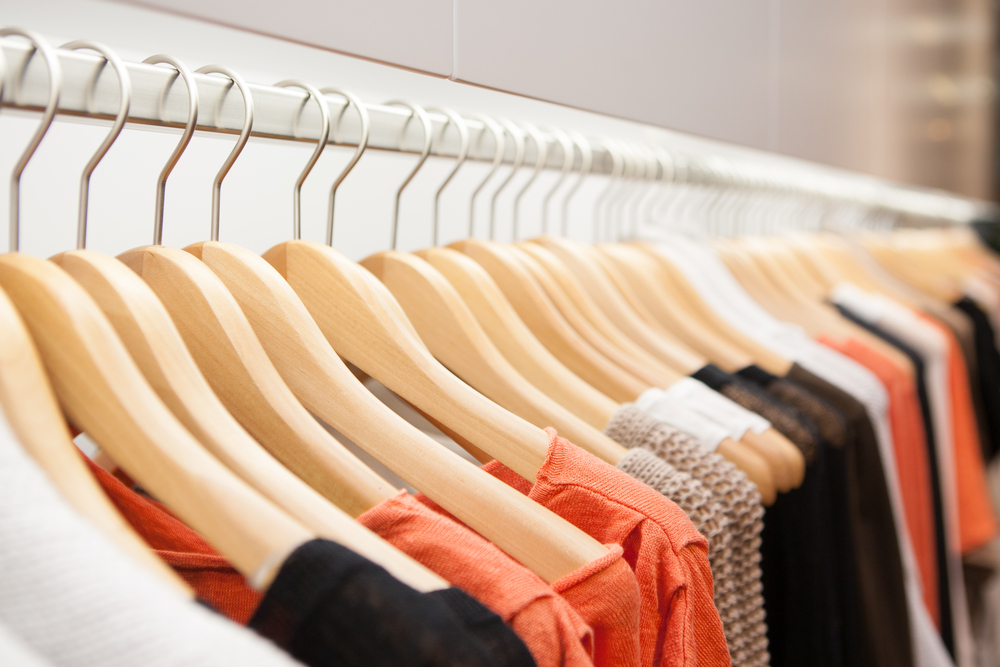 Another effective solution is to attach long strong chains to the ceiling or the upper shelf of the cabinet and hang several hangers with clothes on them - so the space will be used vertically .
2. Things should be folded compactly.
So that items of clothing intended for storage on shelves do not turn into voluminous and uncomfortable convolutions, they should be folded no more than three times and placed along the shelf.
It is hard to imagine how much time people spent folding T-shirts and shirtsAnd mankind has succeeded in this so much that there are technologies for folding them in two seconds using reference points. Having studied the video on the Internet, you can significantly reduce the time for cleaning the wardrobe.
3. Remove clothes out of season.
Before the next change of seasons, prepare the wardrobe of the current season for "hibernation": check and empty all pockets, give your outer clothing dry cleaning, wash sweaters and remove spools from them. Remove coats and jackets in covers , they will protect things from dust, moisture and odors, get flavorings and anti-moth products (lavender sachets, cedar balls).
To save space, you can also use wardrobe trunks for several items of clothing, but the most effective solution to reduce the amount of warm clothes is vacuum bags . They save up to 60-80% of space. Outerwear can be packed in hanging bags with a hanger, sweaters and trousers in small bags. If there is very little space in the apartment, last season's clothes can be put in a closed drawer with zippers and put under the bed.
Visual wardrobe
Correct an organized wardrobe allows you to come up with an image in a matter of minutes, but for this, things should be arranged conveniently and visually.
The simplest and most logical way of organizing is by color. To do this, it is enough to hang things on hangers and lay them on shelves in shades - from the lightest to the darkest.
You can divide the wardrobe by style and purpose: sports, evening wear, for work, for a walk, for a party. And even on the days of the week, providing appropriate cute tags.
For worn but still clean things, floor hangers and coat hanger are great - they allow not only to hang clothes, but also quickly pick up the look.
Accessories and underwear
It is most convenient to place underwear and belts in drawers or boxes with dividers , which can be of different shapes - rectangular, mesh and even round. Socks and underpants are best stored rolled up, bras neatly folded into one another.
The ideal solution for accessories is organizers or multifunctional hangers , they can easily fit scarves, jewelry and other necessary trifles. In addition, they will always be at hand.
A dummy may be a curious option. If you tie up the entire collection of belts from the wardrobe on his waist, you don't have to spend time picking them on a sleepy morning.
Place for shoes
many stars boast on the ceiling with exposed shoes on the pages of glossy magazines. If the apartment does not differ in vast expanses, you will have to figure out how to store shoes in a limited square meter. Partially, you can use the original approach, for example, hanging your favorite pair on a hook in the corridor like skates, but the main part of the shoes will still have to be put in boxes. "Native" packages, of course, will be able to protect from dust and moisture, but they quickly lose their shape, and it can be difficult to track so that they contain the right pair. In addition, the boxes from the store are far from always compact and beautiful.
Special shoe boxes solve this problem. There is a huge variety of species - with zippers that can always be folded and removed, with a metal frame, which allow you to store a pair in the most comfortable conditions and do not bend, plastic transparent, which can significantly reduce the time to find the right pair. The color and pattern, special labels for signature can be different, but it is extremely important to choose boxes for storing the same style and choose the right size, as well as provide options for boots with a long boot and simple boots. Before folding into the box, shoes must be cleaned, and in order to preserve their shape, it is recommended to place crumpled paper inside, as they do in the store.
Shoes for daily wear can be hidden in galoshes and cabinets suitable for the interior of the apartment, placed in the door module with pockets, hang using special hangers or holders.
And you can purchase everything you need to organize storage of things and get detailed recommendations on the use of each product in the store Perfect wardrobe .